Illuminati on
Illuminati on
The Illuminati, could they actually be hiding in plain sight as they like to do, the keys to Illuminati-on?
This post if you read it will probably enter you into a state of cognitive dissonance! Reader beware….
I have been exploring the flat earth theory!
This brings me to the word Planet. If we take off the letter T we get the word plane. What flies in the sky Planes! What is a plane, something completely level or flat!
I mention this because I have been sinking into the rabbit hole these last weeks and am in cognitive dissonance! To the school programming and tell lie vision programs, I have been fed my whole little life of 43 years.
Ok so I have been checking out NASA footage. Wow what a crock. Ok firstly check out this picture we are all sooooo familiar with.
Pic 2
Where are all the freaking stars dude?
A quick google search illuminates the ancient word meaning of NASA as "beguile" or "greatly deceive" mmmmmh!
What about this picture of a satellite, I mean who the hell took this picture, did the satellite take a selfie for Christs sake, whilst dodging all the apparent "stuff" in space, as the picture below shows! I know I know I shook my head too when asking myself these same questions!
Pic 3 
Space Junk according to NASA
Pic 4
How can any satellite let alone space station be in near earth orbit amongst this space junk mess? Are all the bits conveniently orbiting in the same direction and at the same speed in a nice cohesive unit?
Look at this astronauts' clear view of earth with not one star or piece of space debris!!!! What?
Pic 5
What about this NASA image of an Astronaut waving. Again I ask you where are all the stars let alone space junk he would need to be dodging? Also what the hell is that reflection in the background, I mean isn't that just black "space" out there with no stars or space junk???
Pic 6
Where is the light coming from in this image?
Pic 7
What about this image look closely I left it large so you could see!
Do you notice some crosses? These are called alignment marks in most photo editing software!!! Again, where are the stars?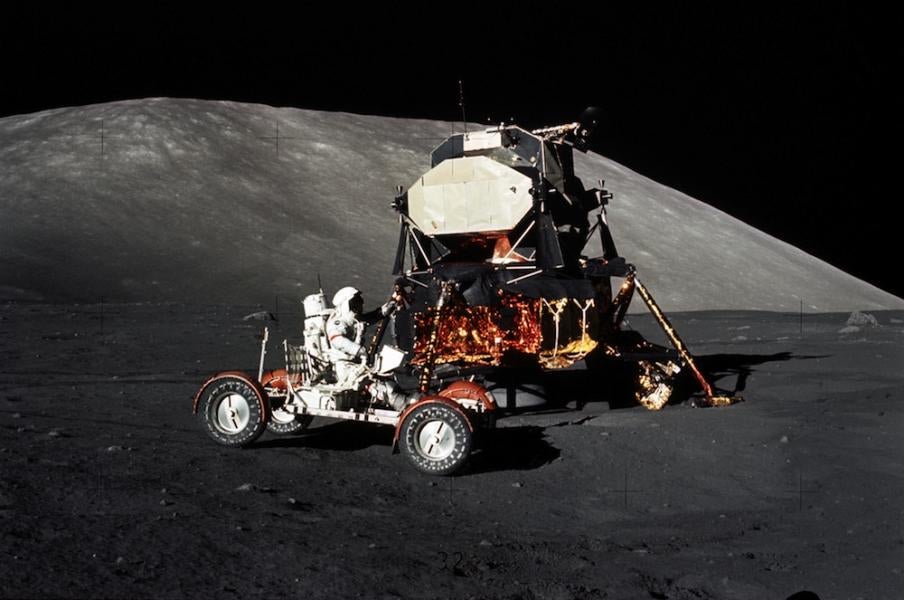 Pic 8
Or this one from NASA website notice the alignment marks again?
Pic 9
A quick google search tells me that "On December 11, 1972, Apollo 17 touched down on the Moon. This was not only our final Moon landing, but the last time we left low Earth orbit". Why have humans not gone to the moon again or left low earth orbit since the 70's. Come on people…..think, or are our brains so stupefied and slow from tell lie vision programming, mercury poisoning, genetically modified organisms, chem trails (aluminium) and fluoridated pineal glands?
https://www.techopedia.com/definition/8044/low-earth-orbit-leo defines satellite systems as "Low earth orbits (LEO) used in telecommunication, which orbit between 400 and 1,000 miles above the earth's surface. They are used mainly for data communication such as email, video conferencing and paging. They move at extremely high speeds and are not fixed in space in relation to the earth". Ok so let me propose that if satellites are up there and moving at extremely high speeds due to not being fixed in space in relation to the earth! According to this theory, could we not just hover a plane over this Plane-t and end up somewhere else on the Plane-t just by touching down once the earth had rotated the right amount of distance?
Apparently, Hubble orbits the Earth at an altitude of about 353 miles (569 kilometres). It takes about 97 minutes to complete one orbit around the Earth. Shit doesn't this mean I could fly anywhere in under an hour just by hovering?????
Is this even possible if the Firmament which is the name for the dome that covers the earth according to flat earthers, the bible and other historical religions, is only 73 miles up according to this video?
https://www.youtube.com/watch?v=TIYWQSwdfaE
Or check out George Rayner Antarctic images
This is an image of flat earth!
Pic 10
Now this is an image of the United Nations logo!
Pic 11
Check out this video for some food for thought!
https://www.youtube.com/watch?v=SsXpFxDdPGQ
In most Semitic languages Ab means father. Ab-original. Could the Aboriginal peoples of Australia who have evidently been around for 60 000 years be our Gods/Abs (fathers) original people?
Could the original inhabitants of this earth plane really have known what trees were, before the white skinned virus with two legs and arms decimated this ancient Plane-t we call home.
I remember watching a documentary I remember not the name years ago! The Old Aboriginal man being interviewed was asked what he missed most about the old days? He eyes welled up and I distinctly remember him saying "I miss the trees…. I miss the trees".
Both these images are from Australian Settlers logging decimation!
Pic 12
 Pic 13
Could these images below actually be an ancient MASSIVE tree stumps?
 Pic 14
Pic 15
I don't know check out this YouTube video and consider for yourself
Yep I've been turned on my head!
Clear It Counselling is a face to face & online relationship counselling service, based in Jindalee Brisbane Australia, & accessible world-wide via online counselling services. Alternative counselling for addictions is also provided by Clear It Counselling. My therapeutic approach draws on many teachings, approaches & techniques. Such as The Perception Trainers, Emotional Anatomy, Psychosomatic Therapy, Psyche-K, ACT, EMDR, Kinergetics, nutrition & even numerology. I passionately pursue my own integration through physical, mental & emotional work. Giving me a lived experience of what works & is therefore worth sharing with my clients! I am fascinated by people & excel at finding unique new ways for people to be in the world, in a highly satisfying way, pertinent to them! If you feel called to work with me, please make contact. Clear It Counselling would love to hear from you!
Pic 2 Earthrise on October 12, 2015. Image: NASA                                                                                                    Pic 3 jointmission.gsfc.nasa.gov/suomi_mission_details.html                                                                                        Pic 4 www.nasa.gov/mission_pages/station/news/orbital_debris.html                                                                          Pic 5  youtube.com/watch?v=WkYz43qALMU                                                                                                           Pic 6 www.nasa.gov/content/fifteen-years-international-space-station                                                                      Pic 7https://i.kinja-img.com/gawker-media/image/upload                                                                                            Pic 8 www.i.kinja-img.com/gawker-media/image/upload/t_original/utintmqdcjp6o5wup7hs.jpg                              Pic 9 https://www.nasa.gov/multimedia/imagegallery/image_feature_774.html                                                        Pic 10 https://theflatearthsociety.org/home/index.php/featured/maps                                                                    Pic 11 http://www.industryweek.com/supply-chain/companies-not-living-un-sustainable-development-vows        Pic 12 http://bytesdaily.blogspot.com/2012/01/trees-in-memoriam.html                                                                  Pic 13 https://www.pinterest.com/pin/275352964687575764/                                                                                  Pic 14 http://www.thelivingmoon.com/41earth_sciences/03files/Rock_Formations_Jugurtha_Tableland.html          Pic 15 http://wikimapia.org/3771574/Kukenan-Tepui